MAC Containers: the perfect office solution
If you need an on-site office, MAC Containers will deliver with a minimum of fuss and bother.

Just tell us what you need and we'll do the rest. It really is that simple.

All MAC offices are internally lined and insulated, with lighting and Dimplex convector heating included in the cost.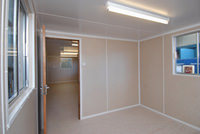 ‍To customise your office, choose from the options below:
‍
·  exterior security lighting
‍·  secure generator slots
‍·  positioning of doors and windows
·  interior partitioning
·  internal fixtures and fittings
‍·  air conditioning
·  sanitation
‍·  colour (click on pdf download for the full range of colours)·  corrugated or smooth sided exteriors. All units comply with BS CP3, BS CP11 and BS 449 and MoD Approved Defence Standards 05/29 and HSE 93.

‍To get a quote for MAC Containers on-site accommodation click below.

‍ Back to main Advice page