MAC Containers: the perfect office solution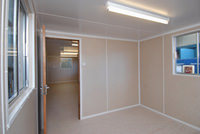 If you need an on-site office, MAC Containers will deliver with a minimum of fuss and bother.
Just tell us what you need and we'll do the rest. It really is that simple.
All MAC offices are internally lined and insulated, with lighting and Dimplex convector heating included in the cost.
To customise your office, choose from the options below:
exterior security lighting
secure generator slots
positioning of doors and windows
interior partitioning
internal fixtures and fittings
air conditioning
sanitation
colour (click on pdf download for the full range of colours)
corrugated or smooth sided exteriors
All units comply with BS CP3, BS CP11 and BS 449 and MoD Approved Defence Standards 05/29 and HSE 93.
To get a quote for MAC Containers on-site accommodation click here or call 0800 135 7047
MAC SiteGuards™
The Industry Standard Unit
on nearly every building site in the UK
Unconditional 12 months warranty on all units
Unparalleled security with unique anti-vandal features
Bespoke units tailor-made to your specifications
Swift efficient delivery to minimise disruption
In the unlikely event of any problems, we provide on site attendance within 24 hours
MAC SiteGuards™
provide versatile, secure units for individuals, small companies and multinationals.
COSHH storage facilities
A mobile home
secure storage
additional office space
extra classrooms
secure workshops