Smoking shelters for businesses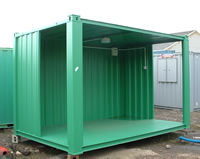 If your company allows its employees to have a smoking break, they should be provided with one of our approved external smoking shelters.
As the largest suppliers of NHS and HSE compliant smoking shelters in the UK, we can offer
free standing shelters, compliant with Smoke-free (Premises and Enforcement) Regulations 2006
a wide range of sizes
modular units
a broad spectrum of colours (see pdf download for range).
MAC Smoking Shelters can be manufactured in any configuration and are guaranteed to offer your employees maximum protection from the elements.
Our smallest shelter is 4' x 4' - ideal for an individual.
Our largest shelter is 40' x 12' which will accommodate up to 50 people.
MAC Smoking Shelters have a solid base which allows them to be placed on any surface without prior preparation.
To get a quote for MAC Containers smoking shelters click here or call 0800 135 7047
MAC SiteGuards™
The Industry Standard Unit
on nearly every building site in the UK
Unconditional 12 months warranty on all units
Unparalleled security with unique anti-vandal features
Bespoke units tailor-made to your specifications
Swift efficient delivery to minimise disruption
In the unlikely event of any problems, we provide on site attendance within 24 hours
MAC SiteGuards™
provide versatile, secure units for individuals, small companies and multinationals.
COSHH storage facilities
A mobile home
secure storage
additional office space
extra classrooms
secure workshops