Smoking shelters for businesses
Why Do You Need a Smoking Shelter?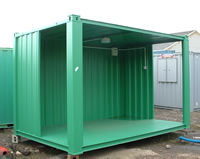 In 2007, the Premises and Enforcement Regulations 2006 came into effect, meaning that any public place or workplace which was classed as "enclosed" or "substantially enclosed" needed to become totally smoke free.
14.4% of the population were smokers as of 2018
The fact remains, however that there are still a large proportion of the population that smoke and so ensuring you have an appropriate smoking shelter solution is important for employers and businesses alike. The highest rate of smokers is within the 25 -34 age group, this is a large part of the working population.
So, making sure you have an adequate smoking shelter solution is important to maintaining staff moral as well as keeping customers happy.
What Does Enclosed and Substantially Enclosed Mean?
Enclosed: The building has a roof and is completely enclosed except for doors, windows, and passageways.
Substantially enclosed: The building or premises has a roof of some type and any openings have a total area of less than half the area of the surrounding walls.
How can you meet the regulations surrounding Smoking shelters?
Under the Premises and Enforcement Regulations 2006, smoking is allowed in areas that do not have a roof or that has a roof, but the total surrounding wall areas is less than half the area covered.
You need to be careful with this rule, as while it does consider all areas of open space, so including areas in trellis for example, it also considers the impact of future changes, for instance a plant growing.
MAC Smoking Shelters take the stress of these considerations away due to their modular design which means all this has been taken care of before installation.
Things to Consider for Your Smoking Shelter
Health and Safety
In most cases, you will need to seek planning permission for any smoking shelter you erect, due to it being a permanent structure. You can contact your local council to find out if this is the case.
It is also sensible to consider if Building Regulation approval will be required, though this is unlikely in most cases due to the smoking shelter not being attached to another building.
Consider also, any environmental regulations which may affect where you decide to build your smoking shelter, especially if you are in an area which has more regulations than most, such as national parks or historic buildings.
The MAC Smoking Shelters benefit from a modular design and solid base, allowing them to be placed on any surface without prior preparation.
Location
Legally, smoking shelters must be a distance of at least 20ft from any building entrances, exits or ventilation points.
However, there are a few other factors you may wish to consider when planning the location of your smoking shelter. MAC Smoking Shelters are free standing, this means they can be in areas that meet the below requirements.
All shelters need to allow for sufficient air movement through and around it, to protect against second-hand smoke. This can be achieved in a variety of ways, such as open sections or gaps.
Also consider access. Is their safe access to the smoking shelter? Do people need to cross a road or carpark to get to it? If so, are there appropriate health and safety precautions put in place? Or is there a better location for the shelter?
Design
There are numerous designs which you can choose from when planning your smoking shelter, from those fixed to walls to free standing, from wood to steel.
While this can seem daunting, the best place to start is by thinking about what you actually need. Once you know this, you can plan how best to achieve this in a way that meets you own individual requirements.
Are you limited by budget? Size? Do you have a specific type of material you need to build with or are you more interested in an ascetically pleasing solution?
If you are placing it in a public place, you will also want to consider how you can make it better blend in. Does the design match the surrounding architecture, do the colours complement the surroundings? What type of material should you use? These decisions will be what shapes the smoking shelter you ultimately choose.
The MAC Smoking Shelters cater to requirements of any size, from tiny one person shelters to those with room for up to 50 people and are available in a range of different colours.
As the largest suppliers of NHS and HSE compliant smoking shelters in the UK, we can offer
free standing shelters, compliant with Smoke-free (Premises and Enforcement) Regulations 2006
a wide range of sizes
modular units
a broad spectrum of colours (see pdf download for range).
MAC Smoking Shelters can be manufactured in any configuration and are guaranteed to offer your employees maximum protection from the elements.
Our smallest shelter is 4' x 4' - ideal for an individual.
Our largest shelter is 40' x 12' which will accommodate up to 50 people.
MAC Smoking Shelters have a solid base which allows them to be placed on any surface without prior preparation.
To get a quote for MAC Containers smoking shelters click here or call 0800 135 7047
MAC SiteGuards™
The Industry Standard Unit
on nearly every building site in the UK
Unconditional 12 months warranty on all units
Unparalleled security with unique anti-vandal features
Bespoke units tailor-made to your specifications
Swift efficient delivery to minimise disruption
In the unlikely event of any problems, we provide on site attendance within 24 hours
MAC SiteGuards™
provide versatile, secure units for individuals, small companies and multinationals.
COSHH storage facilities
A mobile home
secure storage
additional office space
extra classrooms
secure workshops