SiteGuard™ : security guaranteed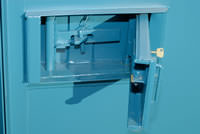 Whether your company needs to provide on-site storage units or you wish to store your personal possessions in the MAC self-access storage facility at North Weald Aerodrome, we can provide the containers you need.
On-site storage
Before having your containers delivered
make sure that the ground is prepared. The units stand on four feet, one at each corner, so you won't need interim supports as long as the ground is fairly level, but if the ground surface is not hard-packed (concrete, hardcore) do have paving slabs ready to slip under the units as they're off-loaded.
check that there is sufficiently wide access for the delivery vehicle.
don't underestimate the amount of time your project will take.
For a small refundable deposit we will send out a surveyor to assess your requirements with regard to equipping your site. We will hold this deposit against the first order.
Self-access storage at North Weald Aerodrome
20' x 8' secure steel container
£6 per day on ground floor
£4 per day on all other floors
unlimited free access during office hours
out of hours access by prior arrangement.
To get a quote from MAC Containers for your new container buildings click here or call 0800 135 7047
MAC SiteGuards™
The Industry Standard Unit
on nearly every building site in the UK
Unconditional 12 months warranty on all units
Unparalleled security with unique anti-vandal features
Bespoke units tailor-made to your specifications
Swift efficient delivery to minimise disruption
In the unlikely event of any problems, we provide on site attendance within 24 hours
MAC SiteGuards™
provide versatile, secure units for individuals, small companies and multinationals.
COSHH storage facilities
A mobile home
secure storage
additional office space
extra classrooms
secure workshops