MAC Containers: underground storage solutions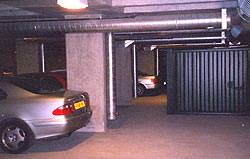 A prestige apartment block in Hampstead, London, offered everything expected of luxury accommodation - except enough storage space.
Rialto Homes, designers of the complex, asked MAC Containers to deliver and install 200 special storage containers to solve the problem of the limited storage.
The containers were delivered on a Hiab crane lorry and then manually installed on all three levels of the underground car park.
The features of these purpose-built containers (8' x 7' x 6' 6") included:
fitted shelving units
rechargeable battery lighting
so everyone's prized possessions could safely be stored away.
To get a quote from MAC Containers for your new container buildings click here or call 0800 135 7047
MAC SiteGuards™
The Industry Standard Unit
on nearly every building site in the UK
Unconditional 12 months warranty on all units
Unparalleled security with unique anti-vandal features
Bespoke units tailor-made to your specifications
Swift efficient delivery to minimise disruption
In the unlikely event of any problems, we provide on site attendance within 24 hours
MAC SiteGuards™
provide versatile, secure units for individuals, small companies and multinationals.
COSHH storage facilities
A mobile home
secure storage
additional office space
extra classrooms
secure workshops