MAC Containers: underground storage solutions
"But where will we store our larger valuables and other necessities?"
(This thorny issue was the only downside at Freshfields - a luxury Hampstead apartment block)
Inspired by Henry Ray Freshfield (2 February 1814 – 8 February 1895) these beautiful apartments are a memorial to this famous Hampstead lawyer who rose to become the appointed Solicitor to the Bank of England - and whose eponymous law firm is still a major force in global business.

Henry Freshfield was also conservationist who believed that open spaces (like Hampstead Heath) should be accessible to the public and preserved from the encroachments of builders, developers and landlords.

The extent to which he succeeded in preserving this beautiful part of London is reflected these days in the cost of local property - and that, in turn is reflected in the needs and possessions of local residents...

The problem needed a solution: substantial, secure, user-friendly storage was essential. But where on earth to put it? Knowing our record of innovative ways to turn problems into opportunities the designers - Rialto Homes - turned to MAC Containers.

MAC Containers went down into the car park (the three-storey underground car park, to be precise).
There, we undertook a thorough survey - and having completed it, we designed and built 200 (that's right - two hundred) secure walk-in containers, each one measuring a generous   8' x 7' x 6'6' (244cm x 213cmx198cm).
Standard features of these steel storage containers include:

Impregnable locking
Fitted shelving units
Rechargeable battery lighting
All the engineering integrity which, for over 40 years, MAC Containers have been renowned:-

•        Thief-proof
•        Waterproof
•        If specified, they can also be Fireproof

Equally importantly they're condensation-proof: safe storage for absolutely anything: treasured family mementos... important legal documents... shotguns... priceless works of art...

(With such generous dimensions, a container like these could even serve as a workshop. Here are a few examples of MAC secure storage and portable buildings for every application from sport to construction, health to education.
How on earth were these walk-in containers delivered?

With far less fuss and disruption than you might imagine - but with quite a bit of old-fashioned hardwork.

Having delivered the containers to the apartment block, we installed them manually on all three levels of the car park.

Easy, when you know how!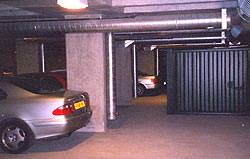 To get a quote from MAC Containers for your new secure storage, or container buildings click here below

We look forward to looking after your business!


Back to main Case Studies page