COSHH Storage Containers For Sale - Safe secure storage for hazardous materials
MAC provides secure COSHH storage for all your hazardous materials
Here's why it's essential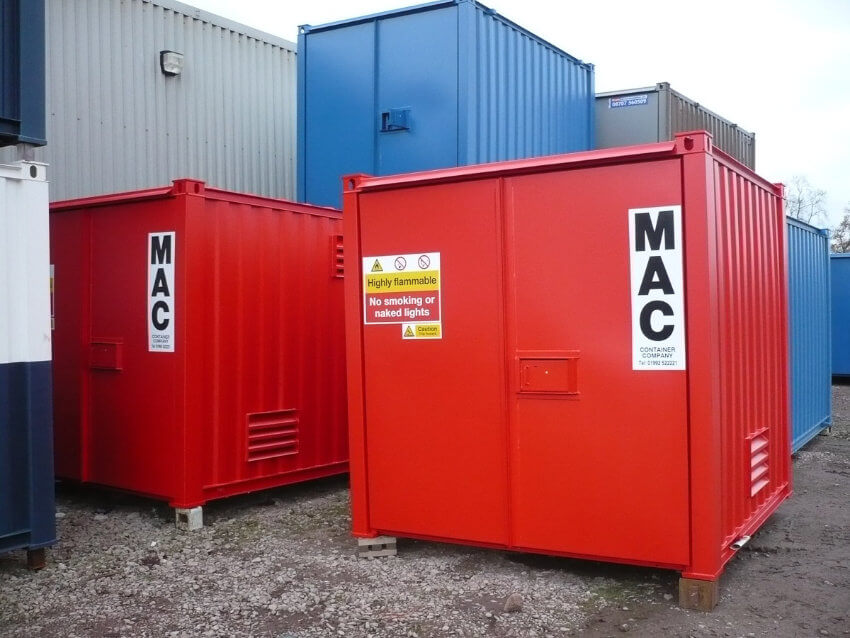 As you probably know, the Control of Substances Hazardous to Health (COSSH) Regulations October 24th 2002 are quite clear about the responsibilities of both employers and employees when it comes to the safe storage of COSSH materials: - chemicals e.g. acids and alkalis, products containing chemicals e.g. pesticides and flammable materials that pose a fire risk.

The regulations go further. They state that neglecting this essential precaution is a crime punishable by an unlimited fine. However, you almost certainly agree that, regardless of your legal obligations, the safety and security of you, your staff and the general public is far too important to neglect.
The store must have enough space to store the substances in an organised way and have room for safe handling of the hazardous substances and space to clean up spills, should they happen. It is also essential there is good ventilation. The flooring of a COSHH store must be resistant to the chemicals stored and easy to clean. It also needs to be secure so that only those personnel authorised have access to the hazardous substances inside. Clear signage must be used to alert the people to the dangers of the hazardous substances. This is not an exhaustive list and individual chemicals may require specific storage conditions, so it is essential that the official regulations are checked.
However you look at it, 100% safe COSSH Storage is 100% essential.
Here's why MAC COSHH storage meets and exceeds the most stringent HAZMAT regulations:
All our COSHH Storage Containers are built to the standards you'd expect from MAC*
A typical specification:
 A MAC COSSH Storage unit is an impregnable welded steel box structure manufactured for the static storage of up to 10 tonnes (COSSH Store 20') supported on its base
Every part of its structure is designed and engineered to maintain total COSSH security at all times
Base frame manufactured from 76mm x 38mm rolled steel channel cross-bearers at 405mm centres welded to 102mm x 51mm side member channels. Bearers overlaid with 3mm steel flooring
 Steel specification to BS 4360:43:A. tensile quality
Profiled walls and roof
A fully-welded 3mm steel floor
150mm bund giving a liquid tight seal to this depth
Vandal-proof double door system
Fixed louvres at high and low levels
Signage position as specified
All MAC COSSH storage units can be finished in a range of over 170 colours.



full range of colours.
* In 40 years, MAC SiteGuard™ Containers have not had a single break-in.

Our Warranty & Service Promise
All MAC COSHH Storage containers have an unconditional 12 months warranty.

If required, we provide on-site attendance within 24 hours.

We will deliver any MAC unit (including COSSH Storage), no matter the size or location, with minimal upheaval. The fleet includes self off-loaders, minimising the need for crane hire and on-site disruption. Read more.
The moral: Don't risk a disaster that could cost you far more than the price of safe COSSH storage

And some typical prices
COSHH storage 10' x 8' - £7,835 + VAT and Delivery
COSHH storage 20' x 8' - £9,295 + VAT and Delivery
To get a quote for MAC COSHH Containers click below


As a bespoke unit you will appreciate these hazardous material storage units are only available for outright purchase. However standard MAC SiteGuardTM units are available for hire.