Bespoke Shipping Container Units
Bespoke MAC Containers:
made-to-measure but priced to suit your budget
Just think Savile Row service at off-the-peg costs

Whatever your requirements, we can help you make them just right for you, your business or organisation

To list just a few of the MAC products that can be tailor-made:
Portable offices
Site accommodation
Secure storage
Extra working space
Home annexe
Extra classroom
Marketing suite
Changing or drying rooms
Messrooms / canteens
COSHH storage
Welfare units
Safe home for your classic car, art collection*... even a smoking shelter
The list is limited only by your needs and imagination
* Security measures, unique to MAC, mean that in 40 years, we've had NO break-ins. Unique levels of insulation and ventilation virtually eradicate condensation.
* All our units are built to the highest specifications, compliant with BS CP3, BS CP11 and BS 449 and MoD Approved Defence Standards 05/29 and HSE 93.
So what's just right for you?
Bigger. Smaller. More doors. Different doors. Doors in different positions. Feel free to be different. Tell us what you need. Specify your preferred air conditioning, sanitation, internal fixtures and fittings, insulation, heating, partitioning, colour (we offer a choice of over 170).
Other options include:
Air conditioning
Exterior security lighting
Secure generator slots
Interior partitioning
Toilets, urinals and showers
Sinks
Water heaters
Lockers, benches and coat hooks
Over to you. You tell us
We're at your service!
Just to get you thinking, here are samples of bespoke units already created for MAC customers. Take a look then contact us to discuss your own requirements.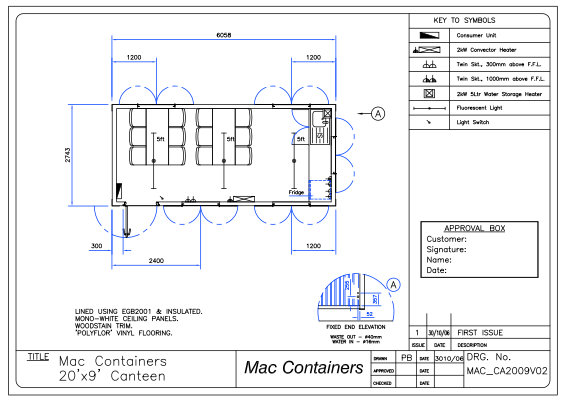 20 x 10 Stacked Units Elevation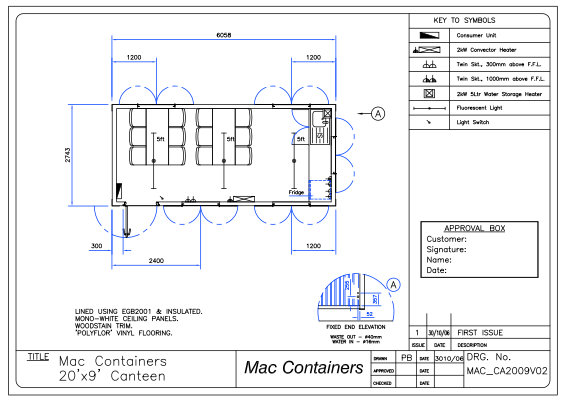 40 x 9 Multi Toilet - Shower Unit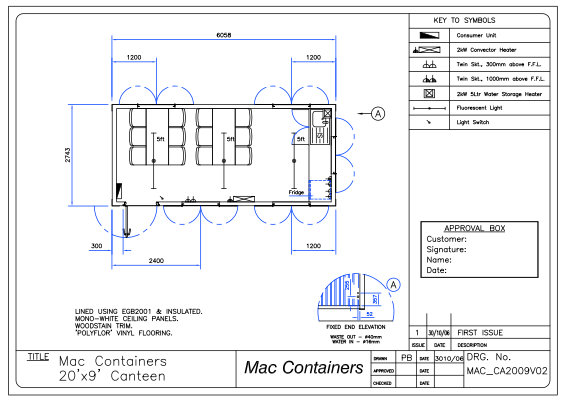 30x10 Welfare Unit inc Canteen Office Drying Room & WC
Note: all measurements are in feet - but here is a metric conversion tool
Or maybe you want to design it yourself?
2
We then create a tailor-made CAD drawing, showing how we feel your concept can best be turned into a practical reality.
3
Having received our drawing, you check fine details and suggest any revisions.
4
Once approved by you, we make your ideas real.
5
We deliver your bespoke MAC Container to your door.
However, certain things are standard:
Unconditional 12 months warranty on all units
On site service within 24 hours
Swift, fuss-free delivery
Friendly, knowledgeable support at all times
NOTE: MAC bespoke units are only available for outright purchase. However, certain MAC units can be Hired
To discuss this or any other MAC product / service just call us on 01992 878319.
We look forward to working with you.